Spring is really here! And I am really enjoying the warmer and longer days, and finally we get to see some sunshine. March was also a very great month for me, beauty-wise, as I have discovered and re-discovered some amazing products.
But before we start, I have to say that I am still absolutely in love with the products I've mentioned in my January favourites: Charlotte Tilbury foundation, Givenchy mascara,  Inglot sculpting powder and Daniel Sandler's blusher.
I will start with beauty, as there is only one product that I want to mention, and that is SachaJuan Ocean Mist (review) which I have re-discovered and almost used up. My brother is getting me a new bottle as a Belated Birthday gift. This gives a lot of volume and texture without making the hair feel crunchy. At least I don't find that mine is.
Skincare and body care wise, I am just trying to use up my half-empty bottles before I get anything new and exciting.
As for makeup, there were a few products that really stood up for me. First of all, BITE Beauty Amuse Bouche Lipstick in Gazpacho.  Probably  the most comfortable lipstick ever, the formula is fantastic, it applies like a dream, goes on so smoothly and the colour is to die for. Considering how many red lipsticks I have – that says a lot. My friend actually gave this to me, and I am very grateful, as now I see why  BITE Beauty gets such amazing reviews.  Definitely check it out at Sephora.
Clarins and BITE swatches
This month I have also been loving this eye brow combo: Clarins Eye Brow pencil in 02 Light Brown.  It is a bit warmer than I would like it to be, but I do like the formula which is not too soft or too hard, and I have just realised that I've used up half of this pencil already. I've been setting the results with the clear eye gel – Brow Expert Gel SILHOUETTE OF GRACE in Airglow (review).
Another favourite is eye shadows in general. I can't name all of them, but I haven't been that much into eye shadows for months, but now I do enjoy using different ones, and the ones on the photo are only some of them for the illustrative purposes.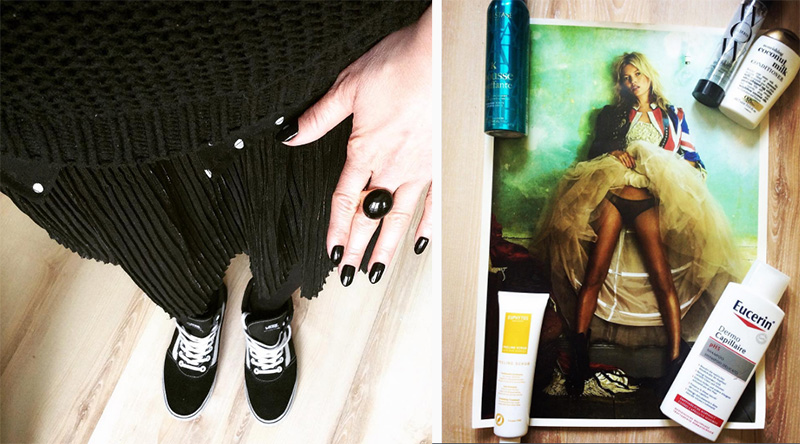 I am also into getting gel manicure again, and I've had a break since August.
One more thing that I want to mention is that fact that I am on the hunt for  sensitive scalp products, as I've posted on Instagram, so if you know any good ones- feel free to recommend me.