Being a fan of Max Factor I was excited at the opportunity to try their new  Excess Intensity Longwear Liners. After using them for over a month now, I am happy to share my opinion, and show you the swatches of all six shades.
They all come in a nice black tube packaging, and a lid is actually matching the shade of the pencil, which is very handy.  I also like the fact that you don't need to sharpen these, you just need to twist to get more product out.
As you can see from the photo, the liner are relatively slim, so you can get a precise line, if you wish.
I personally really loved the formula, the pencils are soft and smooth, they don't drag the skin and glide on easily. The lasting power is also pretty impressive, but I  don't have oily lids, and the the products usually do stay on me rather well in general.
Besides the staying power, I love the colours, the products live up to their name – Excess Intensity, the shades are very pigmented and look gorgeous.
Max Factor definitely had fun creating this, as you don't get the usual selection of shades, instead there are some amazing colours to play with.
There are two classic shades: Excessive Charcoal and Excessive Brown, the brown one is now a part of my makeup bag, I love it that much.
Two must-have metallics: Excessive Gold and Excessive Silver, it's always nice to have those!
And, last but not least, two bright and vivid colourful shades: Excessive Aqua, metallic turquoise and Excessive Charcoal, metallic lime. And I just love the Aqua one, I wore it as a liner on the top lashes, and on the waterline for a pop of colour. There are actually a lot of other way to wear it!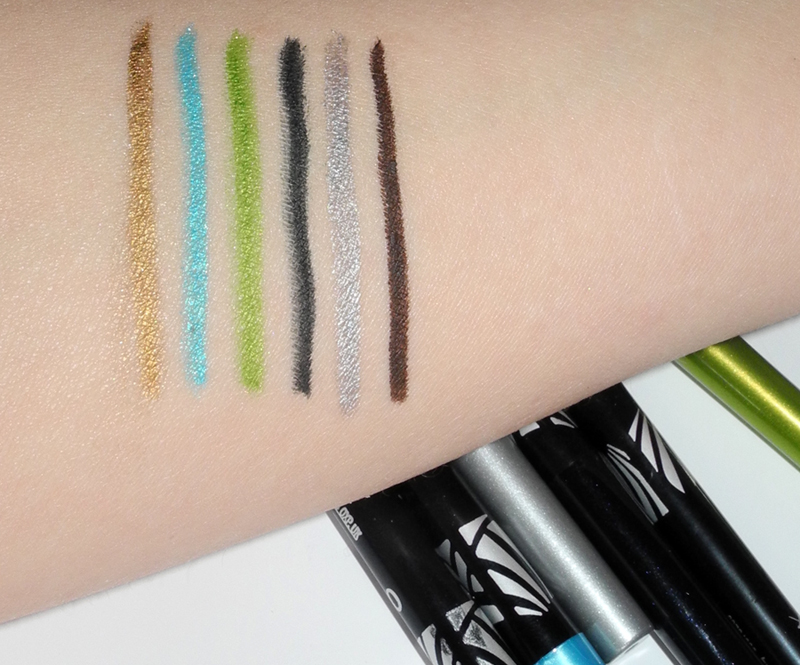 I swear, that the lines looked relatively straight to me when I was swathing, oops.
I would definitely recommend these, for  £6.99 it is s great find. I am pretty sure you already have tonnes of blacks and browns, so pick up lime or turquoise, and experiment with it! After all, makeup is anything but boring.
I also hope Max Factor will add some new shade in the future, as the formula is really lovely…