I have to say that I am still loving all of my favourites from April but here are some more products that I would like to add.  Four makeup items and three beauty.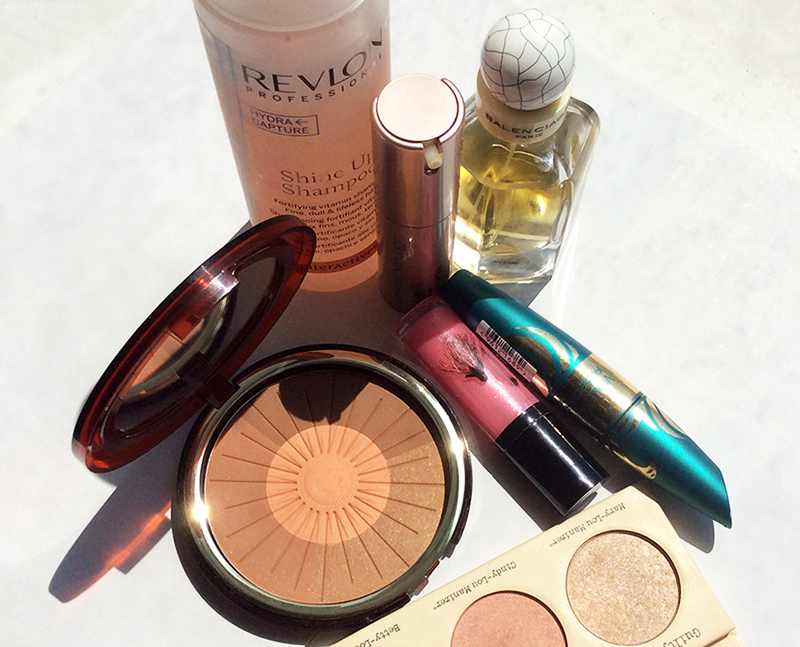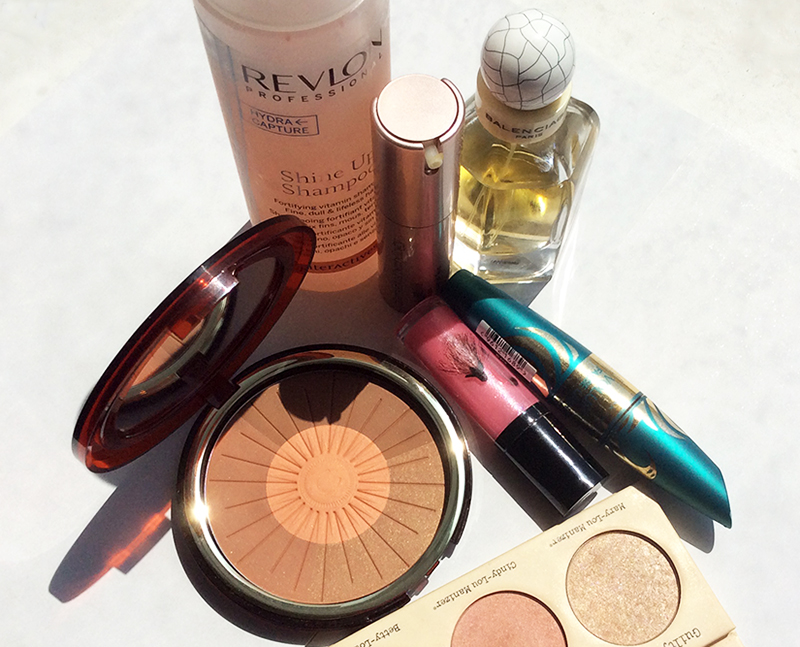 I did not expect this first product to make it to my favourites, as I have been neglecting all my bronzers for some time now, and I have tonnes. But I really like this new Clarins bronzer from their summer collection. It is called Bronzing & Blush Compact (full review coming up soon), as it adds warmth and that subtle sun-kissed effect to the face; you can use each shade separately or mix them all together. The other day when I was wearing it one of my  best male friends told me that whatever I have on my cheeks – it looks amazing, and makes me look beautiful, and it was this bronzer. Yes, some of my poor male friends know things like that.
Speaking of glow, I have started piling on using my Mary Lou Manizer from theBalm again. It gives the most gorgeous sheen to the face, and makes me look decent even when I barely sleep due to all the deadlines. Get it! Seriously, if you love a good highlighter, you need this in your life.
I have been using Max Factor Voluptuous False Lash Effect Mascara all month exclusively, and no other mascara. It is really good, gives black, voluminous lashes.  The formula does not smudge or move! Once you get used to the brush – it is awesome.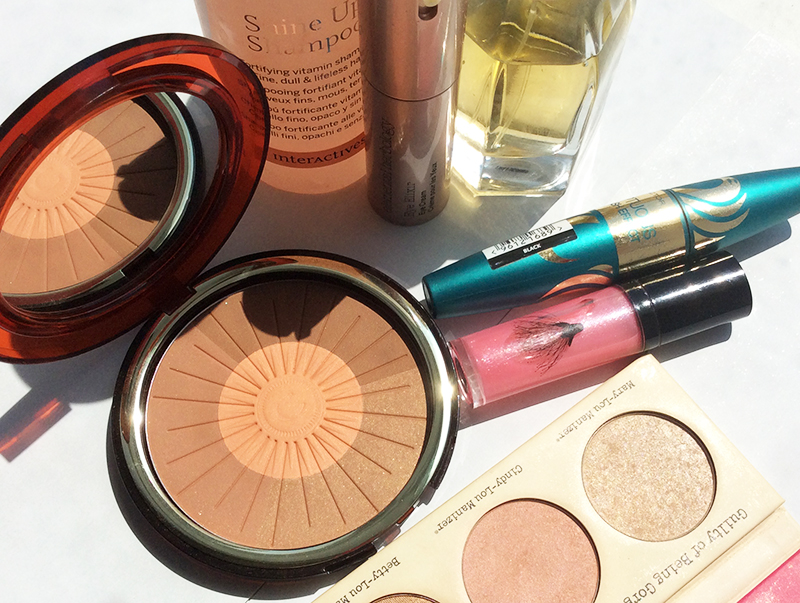 As for lip products, I have been using Rouge Bunny Rouge Glassy Gloss Sweet Excess  a lot lately, it is just the product that I carry in my handbag. The shade I love is RASPBERRY MERINGUE which is a pale pink with very soft mother of pearl micro-shimmer, it adds a pretty glow, smells nice and moisturizes the lips.
Beauty product I've been absolutely obsessed with this month was Balenciaga Paris perfume. I am usually not the biggest fan of scents with violet but I love this one.I really love how it is described, and I agree "Balenciaga Paris is not a romantic floral fragrance, but created with a dose of the urban and the traditional with nuances of metal effects." The notes are: violet leaves, cedar and patchouli, carnation and violet. I have been using it almost daily, and I can't get enough. It seems like people I work with don't mind!
My latest love in the hair department has to be Revlon Professional Shine Up Shampoo. Now, who doesn't want to add some shine to their hair? It does give that glossiness and  volume which are promised, I find. I've bought it after reading raves about it, and I am not disappointed. It smells of grapefruit, too.
Finally, there is a brilliant eye cream  – Elemental Herbology Eye Elixir. This rich eye cream is like a saviour for the under eye area when you have late nights and a stressful lifestyle (show me who does not have that!).  It really is effective but gentle at the same time, smells nice and comes in a cool packaging. I promise to write a more detailed review later but this is definitely one of the best eye creams I have used.
Now I am so ready for all those fake tan products and the shimmering oils! Just not for the heat.