Can you actually believe that it is May, the fifth month of the year?! Time flies, it feels as if it was 1st of January only yesterday.  And this month I actually have quite a few products, including some amazing new discoveries.
Makeup
Max Factor Glossfinity Nail Polish in 85 Cerise (review and swatches)
I have already finished a bottle of this, and am going through my second one, and I am wearing this, as I type, too. Such a gorgeous vibrant, juicy and glossy warm-toned red, it brightens up any look, and (almost) any mood. I am a fan.
For complexion I have been using these two products almost daily: Diorskin Nude Skin-Glowing Make-Up in Ivory (review and face swatches) Rouge Bunny Rouge Naked Disguise Concealer in Castalia.
Dior's foundation is simply brilliant, it is a re-discovery for me. I like the coverage it gives and the finish, it is not matte but not too dewy either.  The shade, Ivory is the lightest in the range, and looks great even on my currently greenish pale and tired complexion. As for the concealer, I plan on writing a detailed feature about it soon. Surprisingly, I have already used half of the tube, and the love is going strong.  It gives just  the kind of coverage I like – the formula is not thick but it brightens up the under eye area.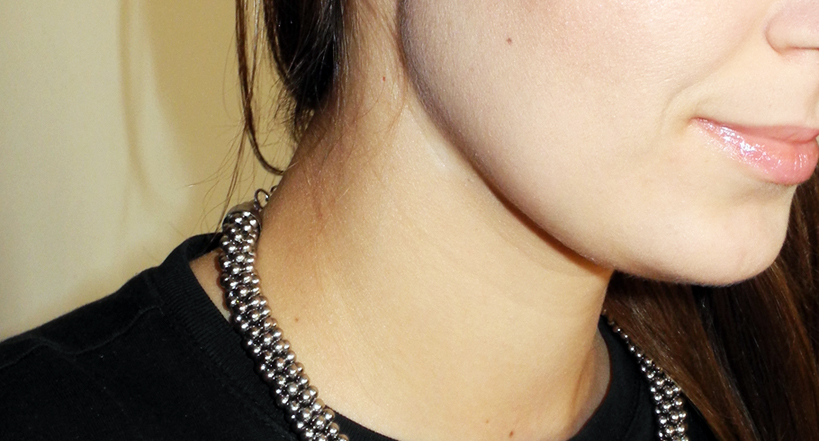 Other products I have been using all the time are Inglot  Sculpting HD Powder in 504 (review) which I talk about non-stop, as it is my favourite product for adding some definition and looking natural. Bobbi Brown Natural Brow Shaper & Hair Touch Up in Slate (review) tints and shapes the eye brows while holding them in place, the cool-toned shade is spot-on.
I've also started using  Urban Decay Primer Potion on a regular basis. I don't have oily eye lids but it just helps the eye liner to last longer and look darker. Speaking of the eye liners – I have been using these two in April –ArtDeco Long Lasting Liquid Liner 01 Black  (review and swatches) and Maybelline Master Smoky Shadow Pencil in Smoky Chocolate (review and swatches).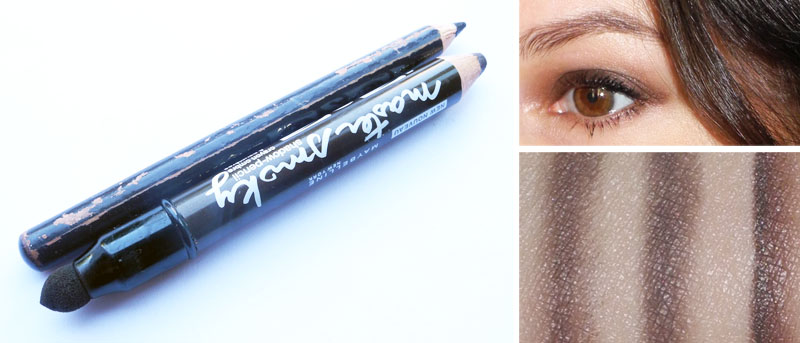 The first one when I wanted an intense and precise eye liner, the brown pencil for a softer, smokier look. Both products are not expensive but very high quality.
For lips, I liked quite a few products but my favourite is still NYX Soft Matte Lip Cream in Transylvania (swatches). I  have been going on, and on about it since winter, so I promise a detailed review this month. It has a soft and lightweight formula but is pigmented at the same time. It is not as drying, as other matter lipsticks but not as long-lasting because of this type of formula.
Skincare
& Other Stories Couture Carnival Hand Lotion (review)
I have been using this lotion, like there is no tomorrow. Good thing I've bought two bottles that will last me for some time. This lotion does smell like a couture carnival, whatever that means, and I can't get enough. The texture is non-greasy but moisturizing at the same time. Now excuse me, I need to put on more. Now I have to have other scents in my life ASAP!
Elemental Herbology Cell Nourish Radiance and Vitality Serum (preview here)
It seems like we all need a product with "radiance and vitality" in the name in our routine. And this particular serum does work. It is one of the most effective products in the category I have used. I have been using it for about two weeks, almost exclusively and can definitely see the difference, my skin is glowing!
Clarins Multi-Active Jour Cream  (as seen here)
I have been using this cream for over 2 months now, so I will write a detailed review soon but so far I can say that I am really loving it. Multi-Active makes the skin softer and smoother, and make it look more radiant, it is also a great base for makeup.