You know me and my brown eye liners, right? I refuse to be without my favourite one from Lancome, so when I've swatched Maybelline Master Smoky Shadow Pencil in Smoky Chocolate, and realized that it was very similar colour-wise, I knew that I had to buy it.
Smoky Chocolate is a dark brown, exactly the kind of shade that I love. So here is how it looks like.
You get an eye crayon on one end and a  sponge on the other, and it is easy-peasy to use. You basically apply the eye liner and smudge it with a sponge. It takes seconds to do it, and the results are impressive. It looks as if you actually took some time to do your makeup.
The formula is amazing, it is creamy and easy to blend. Plus I find that on my, not oily & primer-free, lids it stays on really well! It doesn't look the same as after I've just applied it, it does look worn by the end of the day, but in a  good way; it doesn't slide off. The product is still there, it is not smudged or melted off, but you do get some creases, which I personally don't mind.
I am very impressed. When I don't have time to do a proper makeup, smudged dark brown liner and mascara is my go-to!  You can see it in action below. I am wearing only two products – Maybelline pencil and Clarins mascara, that is all.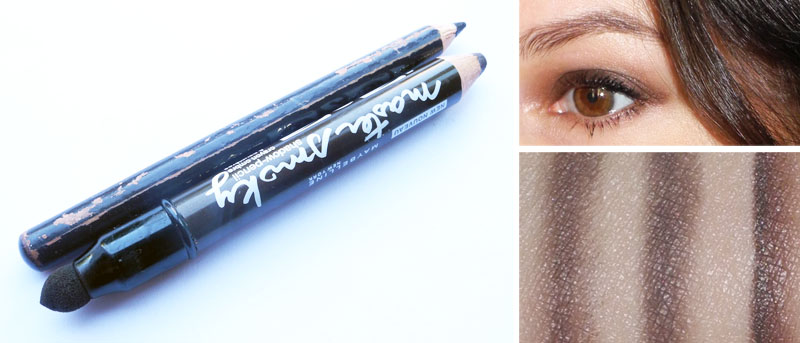 Above are the swatches of Maybelline, Lancome and NYX.
I would definitely recommend this product. It performs just as well, as my expensive high-end  pencils and costs only:
They have four other shades to choose from: Navy, Violet, Black and Grey.