When you have a lot of makeup products –  you sometimes forget  that you have a certain item in your collection. This is why I love to look through the things that I have from time to time.
Recently I have re-discovered (& love d using) the following products:
 BECCA Eye Tint in  Pewter (review and swatches)
I don't know why I've stopped using this, it is just SO good! You can apply a very thin and sheer layer, or build up the intensity to a dark and deep shade. The staying power is amazing, on my lids it lasts for the whole day, without primer, without fading or creasing.  I need other shades.
Inglot Lipstick in 401 (review)
Out of all the orange and coral lipsticks (and glosses) that I have – this one suits me the best. I don't like such shades on me that much, but Inglot's 401 lipstick is simply gorgeous, the colour is beautiful, plus it is very opaque and intense. I also like the matte finish.
NARS Blush in Orgasm (review and cheek swatches)
This is the product that I've bought because of the hype about 5-6 years ago, and I am still not sure what I think about it. I have on and off relationships with  it. Sometimes I think that it brightens up the complexion and looks beautiful on, and sometimes I think that it is too glittery and emphasizes all the imperfections. Go figure. And are you a fan?
 Bourjois 10 Hour Sleep Effect Foundation
I wanted to pick up the new Bourjois CC Cream which I  really like but then stopped myself because I already have two Boujois foundations that I hardly ever use. Wow, sometimes, I can be reasonable, when it comes to makeup purchases, see? 10 Hour Sleep Effect is a nice and affordable option if you don't want a  heavy coverage, and  like a natural finish, which is not too shiny, or too matte. But, I guess, if I did have 10 hours of sleep every night, I wouldn't need a foundation. A girl can dream.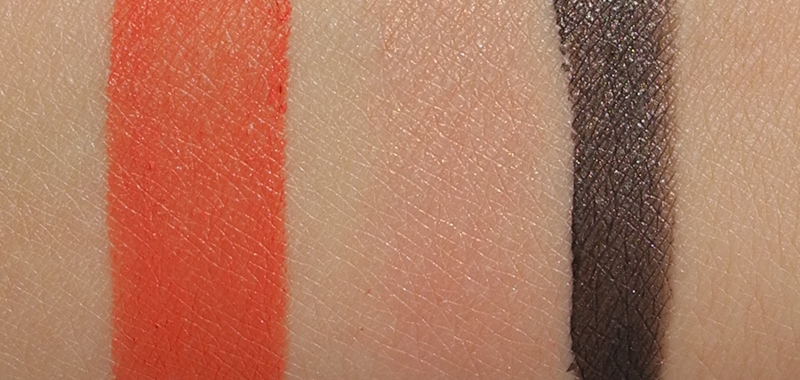 And did you re-discover any products recently?