This is the second installation of "what's in my shower", you can see the first one here.
I like to rotate my products, so here is what I've been using a lot recently. I am not going to repeat myself, so if you want to read about all the products in details, just click on the links!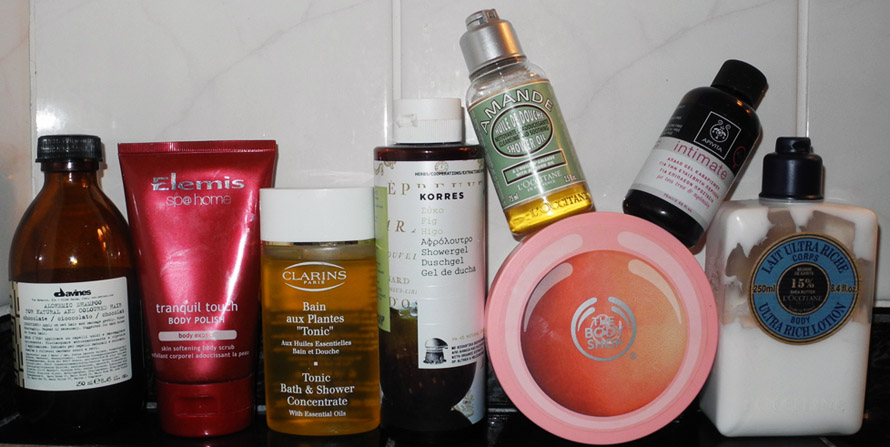 Hair
I am still loving my Davines Alchemic Shampoo in Chocolate Brunette, one of the best I have tried. You can read my thoughts about it here.
Body Washes
A good scrub/exfoliator is a must have in my opinion, so I have several in my "collection", these days I have been using Elemis Tranquil Touch Body Polish most if the times.
Clarins Bath and Tonic Concentrate smells like the scrub from the brand that I love a lot, very refreshing and energizing, I love using it after I work out or in the mornings.
I have already used up the fantastic Korres fig body cream but still have more than a half bottle of the shower gel, it smells amazing!
Of course, there is a L'Occitane's Almond Shower Oil Review which is a cult product for a reason. And Apivita's Gentle Cleansing Gel for the Intimate Area, a very lovely gentle product.
Body Moisturizers
When I want a good and rich body moisturizer that, as a bonus, smells to die for, – I always reach for my The Body Shop Pink Grapefruit Body Butter, one of my favourites.
When I want a light lotion that doesn't have a strong scent – I go for L'Occitane's Shea Butter Ultra Rich Body Lotion.
And what products do you like using these days?