Here is a preview of  several nail polish collections for Spring 2014, lots of pastels, and not only!
Gorgeous promo photo from Deborah Lippmann, it really is very spring inspired with all the flowers and soft shades.
Blue Orchid – blossoming baby blue, Build Me Up Buttercup – blooming buttery bouquet, Flowers In Her Hair – magnificent mint medley, La Vie En Rose – pastel petal pink, Spring Buds – pretty playful pistachio, Tip Toe through the tulips – perennial pale peach.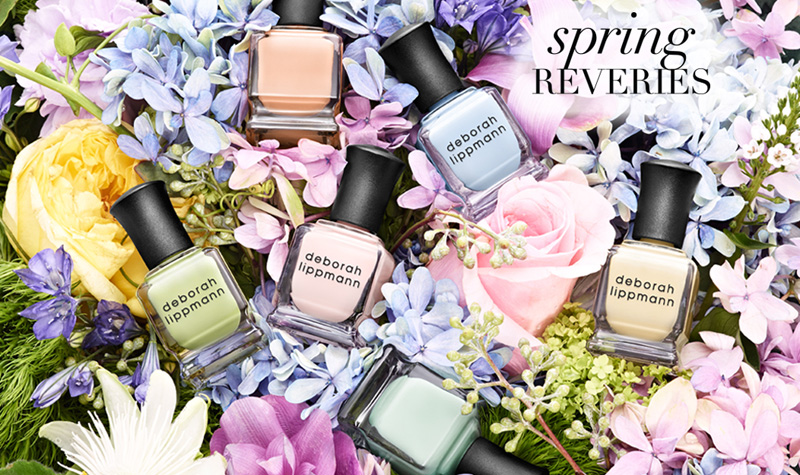 As for OPI, their collection  was inspired by Brazil this season:
Next Stop… – The Bikini Zone
This amethyst-toned pewter suits me just fine.
 Don't Bossa Nova Me Around
 – Nobody can stop me from wearing this creamy nude!
Taupe-less Beach – There's nothing optional about wearing this enticing taupe.
 I São Paulo Over – There
He was sipping coffee with this mocha-toned beauty.
 OPI Scores a Goal!
 – Make your point in this winning shade of rich chocolate.
AmazON…AmazOFF
 – I'm making the switch to this deep jungle green.
 I Just Can't Cope-acabana – Nothing lifts your spirits like this sunshine yellow.
 Where Did Suzi's Man-go? – He went to fetch her this delicious mango smoothie.
 Toucan Do It If You Try – You have talent to achieve anything in this confident orange.
 Kiss Me I'm Brazilian – Plant this warm luscious pink on me!
 Live.Love.Carnaval – This vibrant and festive coral is the life of the party.
 Red Hot Rio – A ruby red as hot as the most exciting city in Brazil.
 The Brazil Beach Sandies Liquid Sand Mini Pack includes the following shades:
 Samba-dy Loves Purple – Well, who wouldn't find this vivid textured violet irresistible?
 I'm Brazil Nuts Over You – And I'm crazy for this textured matte pink
 What's a Little Rain Forest? – I've got this textured matte blue and an umbrella for two.
You're So Flippy Floppy – When I found this bright textured yellow, I just flipped!
And here is also a preview of Essie's collection:
Hide & go chic, covetable azure blue, Fashion playground, plucky pistachio shimmer, Spin the bottle, semi-sheer nude, Romper room ,pale tea rose pink, Style hunter, laser sharp crimson, Truth or flare, vintage blue denim