Stila's  Sealed With A Kiss Makeup Collection for Christmas 2015 really caught my attention. Especially with those gorgeous promo campaigns *inspiration alert*.
There are four looks in general and my favourite ones are with red lips and cat eyes which is chic and classy and the one with dark lips and a fresh glowing completion, as that is my kind of look.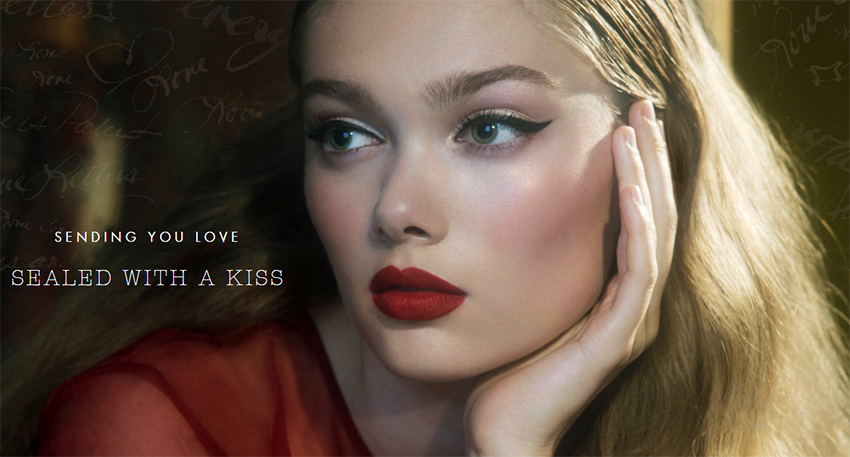 And which makeup do you like the best?
As for the makeup sets themselves, they are really-really good!
I personally like (and think of getting for myself)  Eternal Love Liquid Lipstick Set ($20) which includes three mini lipsticks which, in my opinion, are some of the best in the industry (read my review). And you can't really go wrong with mauve, red and berry.  The shades are: Ricco, Beso and Baci.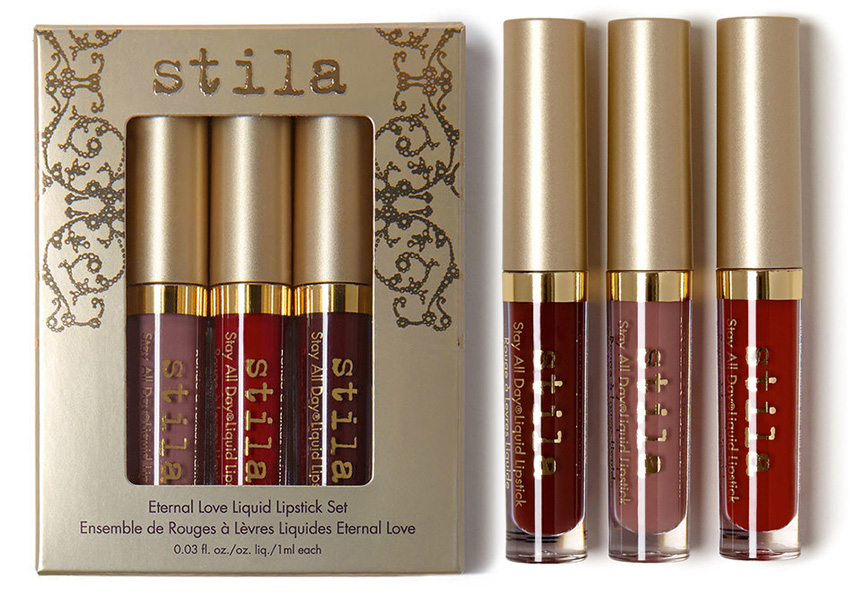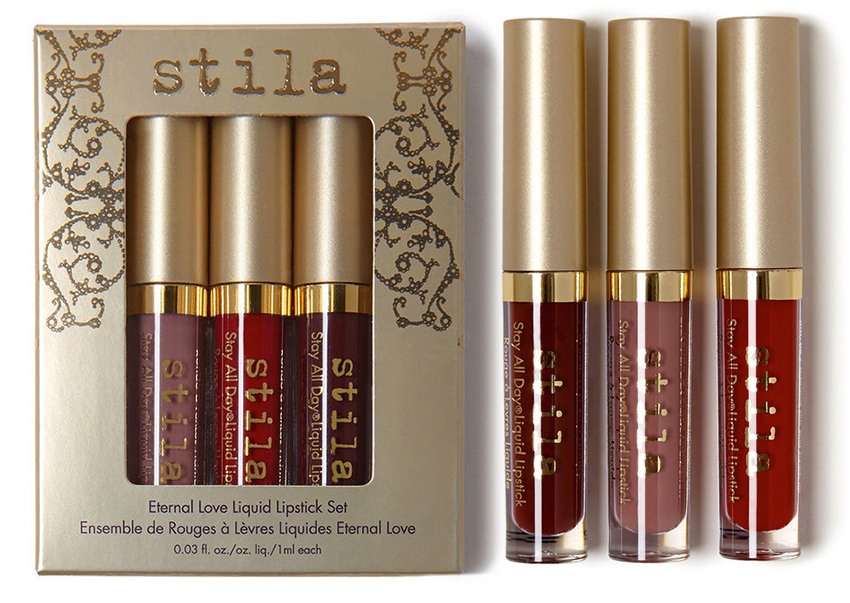 There are two more lip sets. One with more liquid lipstick shades and one with the cult Stila glosses. I have actually bought  a few sets several seasons ago for myself and friends.
Eternally Yours Liquid Lipstick Set ($39): Caramello, Patina, Aria, Como, Chianti and Fiery
Sealed With A Kiss Gift Set ($28): Pomegranate Sparkle, Ruby Grapefruit, Raspberry, Mandarin Lights, Papaya Pizazz and Peach.
Other sets are:
Huger Than Huge Extreme Lash Duo ($18) Deluxe HUGE™ Extreme Lash Mascara and Deluxe Lash Stunner Extreme Lash Primer
Sending My Love Giftable Set ($49)
 Deluxe Lip Glaze in Guava
 Full-size of the best-selling liner in Stingray,
Eye Shadow Palette Shades: Bark, Cinnamon, Sandstone, Sangria and Pale Pink
Face Palette Shades:Bronzer, Pink Rose Blush and Highlighter
A Whole Lot Of Love Giftable Set ( $59)
 Deluxe-size HUGE Extreme Lash Mascara
Eye Shadow Shades: White Sparkle, Pale Peach, Nude Shimmer, Metallic Peach, Rose Gold, Rose Pewter, Seaweed, Metallic Taupe, Warm Honey, Warm Taupe, Cool Taupe, Chocolate, Rose, Deep Plum, Lapis, Denim, Frosted Lavender, Eggplant, Black Pearl and Coal
Blush Shades: Light Pink, Dusty Rose, Peach Shimmer and Berry Shimmer
Trust In Love Giftable Set ($40)
 Deluxe-size HUGE Extreme Lash Mascara
 Deluxe-size Lip Glaze in Apricot
Eye Shadow Shades: Warm Silver, Fog, Nude Shimmer, Clay, Golden Topaz, Plum, Black Pearl, Stone, Sapphire, Metallic Bronze, Snowflake and Light Pink
The brand really killed it with their Christmas collection this year, and there is something for everyone here.
Stila is available from  Feel Unique and Sephora.