October is one of my favourite months and I am kind of sad that it is over already but it was a great one despite the fact that I was ill for over a week.
I've decided that before talking about my beauty favourites, I'd mention some other things I like/enjoy:
I've finally went to my first swimming class after planning on going for months. Since I've got sick the next day I haven't been back yet but I will be. Next week.
Downton Abbey. That 1920's style…And I refuse to accept that it's the last season.
Since I was ill for a week at home, I've got time to read and it was wonderful. I was mostly reading cultural and philosophical articles (yeah, I do love such topics) but here is my reading list.
And finally – Pinterest. This has to be my favourite social media, I am always browsing/pinning/saving photos.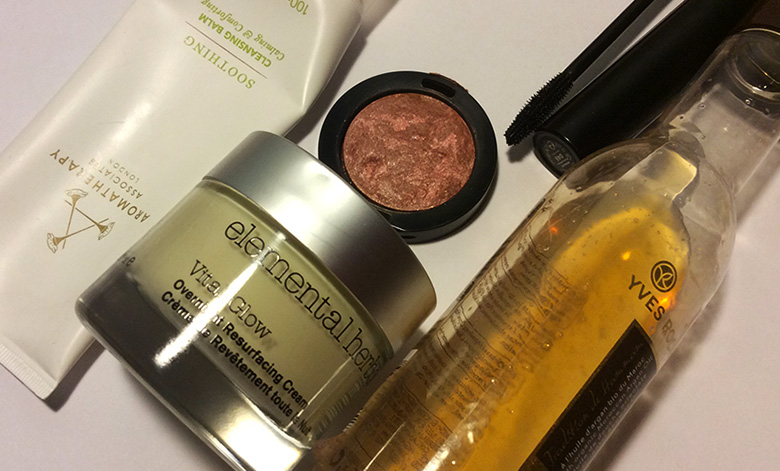 Max Factor Creme Puff Blush in Alluring Rose (review and swatches)
This is probably my favourite launch of the year. Seriously, I could not love these blushes more than I do, and I feel like I have been going on, and on about them. They have the creamiest and softest texture, blend beautifully and have that all-in-one effect.  You don't really need any highlighter or sculpting, just this. And I not a big fan of a 50 steps routine for myself and can't be bothered, so this is a real winner.
Yves Rocher Oriental Shower Oil (review)
I like switching to oil based products in colder months and have been loving Yves Rocher shower oil, it smells divine and doesn't dry out the skin. I would definitely recommend. It is a real luxury with while the price is not ridiculous. I am looking into some new beauty oils to purchase. Which ones do you like?
Rouge Bunny Rouge  Modelling Mascara WITCHERY
I really need to write a review of this mascara and the one from Daniel Sandler. Witchery is definitely working as the other say I was out with my Mum and she asked if I was wearing false eye lashes, and it was this mascara! Plus, I really love how long-lasting it is, not waterproof but it has a great staying power.
Aromatherapy Associates Soothing Cleansing Balm
I am actually surprised that I still haven't written a review considering this is one of the best cleansers that I've tried. It is a truly lovely product that works great for an evening facial massage. Leaves the skin soft and smooth, and ready for the next step in your routine.
Elemental Herbology Vital Glow Overnight Resurfacing Cream 
I have been using this cream for two weeks but I already like.  According to the brand, it combines advanced levels of Plant C-Stem, Natural AHAs and Granactive Retinoid, which should repair and improve the texture of the skin which result in that radiance we are all after. And I can say that I love the way my complexion looks in the mornings.
Update:
I completely forgot about this Dior lipstick which I have been loving this month. Still one of my favourites.