Since I've just posted about the new eye brow gels, it seems like a perfect time to review the newest release from Rouge Bunny Rouge – their new eye brow products. I have actually already induced one of them in my July Monthly favourites. The brand does not bring out that many products so when they do – it is most likely something awesome. And what about these products?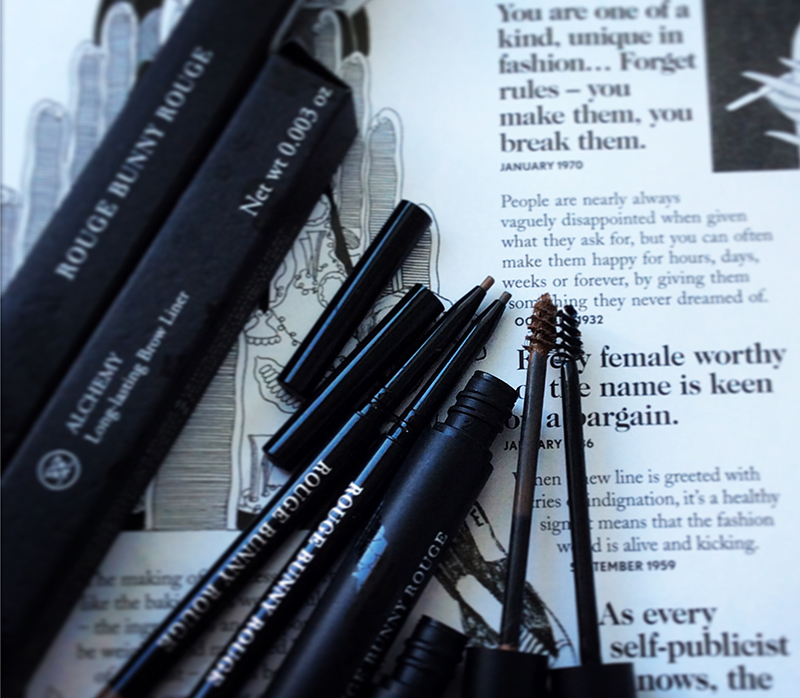 Long-lasting Brow Liner ALCHEMY, €26
Available in two shades:
 ANTIMONY, dark chestnut. Ideal neutral shade for dark brown and black natural brow colour.
TRONA, light hazelnut. Ideal neutral shade for almost any natural brow colour.
It was actually Antimony shades that was in my monthly favourites, and it is brilliant,  it is not  too cool or too warm,  it is also dark enough to add some definition but not too dark, just spot-on.
But it is the formula and the shape of the pencil that I love! As always, the design is exquisite,   this pencil comes in a slick black packaging. And the pencil itself is incredibly thin which allows a very precise application, you can draw in individual hairs and achieve really natural results. This is probably not the on-the-go product but it is
Clarins Autumnal collection focuses mainly on the eyes with soft pink & beige shades for the day time and purple & black for the evenings. There are also new eye brow pencils and two lipsticks to choose from.
Pretty Day 5-Colour Eyeshadow Palette (LE, £33) Pretty Day and Pretty Night
Five wearable eye shadows: beige, pink and shimmering taupe; and matte and shimmering warm browns.
Ombre Matte (£19)
Two new shades of these cream-to-powder eye shadows in 07 Carbon 08 Heather. If you are wondering about these eye shadows in general, here is my review of other shades.
Crayon Khôl (£17)
Two shades in