Tag: Too faced Melted lipstick
Remember that last week I've promised to show you the eye shadows palettes that I personally am very excited about?
Well, they are here, and they are a part of Too Faced Smitten Kitten Makeup Collection for Autumn 2014.
Technically one palette is a part of the seasonal release, and two others are music inspired releases, but I've decided to combine them in one post…
I am a big fan of the brand's palettes, and I am happy to see, not one, but three new variations. They are:
Country Nashville Nudes Eye Shadow Collection
Rock N Roll Rock Candy Eye Shadow Collection
Cat Eyes Ferociously Feminine Eye Shadow & Liner Collection
I am all about Rock N Roll and Cat eyes in real life, but my favourite palette is the Country one. The thing is that I am not a fan of dark eye shadows on myself lately, plus I have enough of those already.  Sorry Glam Rock and Heavy Metal, here I come, Y'all…
Each palette is $36
What else is in the collection?
 Bulletproof Liner 24 Hour Eyeliners, $22
There is always at least one product from Too Faced makeup collections  that I want. Pardon My French is not an exception, those eye shadows and melted lipsticks are stunning. *add to wish list*. And what about their eye brow products? They look amazing on the promo photos.
Honestly, this has to be my favourite summer collection so far!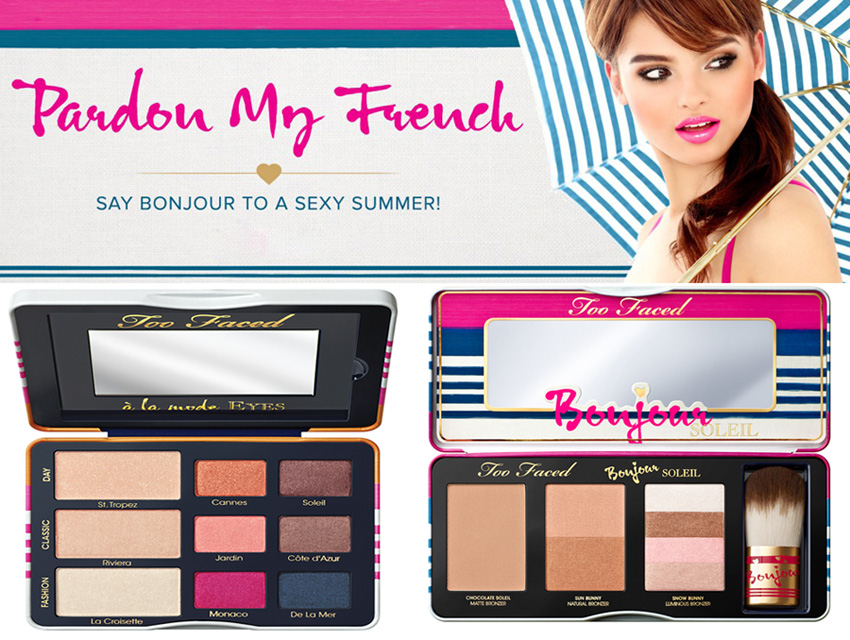 A La Mode Eyes Sexy St. Tropez Eye Shadow Collection ($36)
Capture a summer sunset in St. Tropez with coral, golden pink and fiery copper shadows for eyes that say "Ooh la la!"
Too Faced eye shadows are among my favourite, and how beautiful does that new eye shadow look?  I think I need it!
Bonjour Soleil Limited Edition Summer Bronzing Wardrobe ($44)
"Say bonjour to a gorgeous, golden tan with this collection of bronzing best-sellers including Chocolate Soleil, Sun Bunny and Snow Bunny."
The brand's bronzers are fantastic, I have Sun Bunny and Pink Leopard.
Melted Liquified Long Wear Lipstick ($21)
Get the