There is always at least one product from Too Faced makeup collections  that I want. Pardon My French is not an exception, those eye shadows and melted lipsticks are stunning. *add to wish list*. And what about their eye brow products? They look amazing on the promo photos.
Honestly, this has to be my favourite summer collection so far!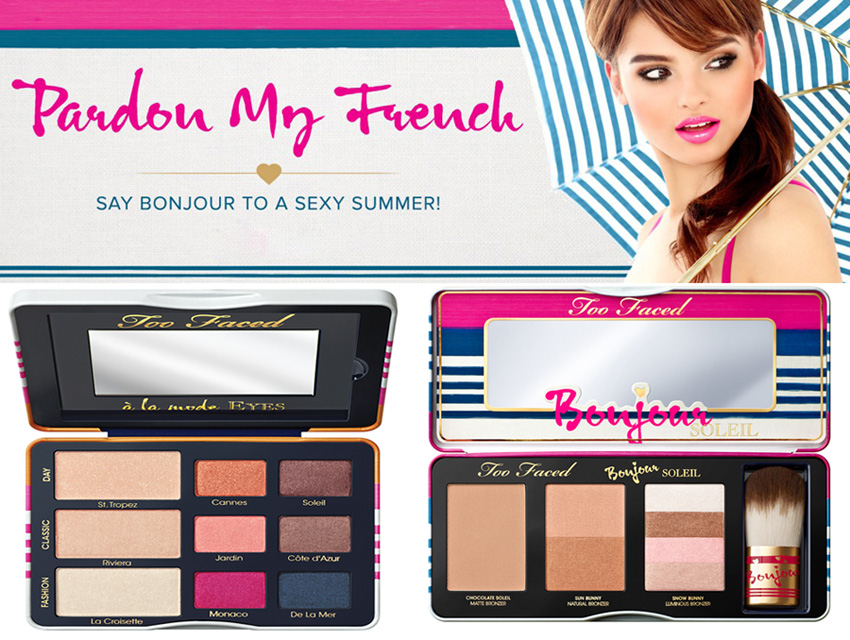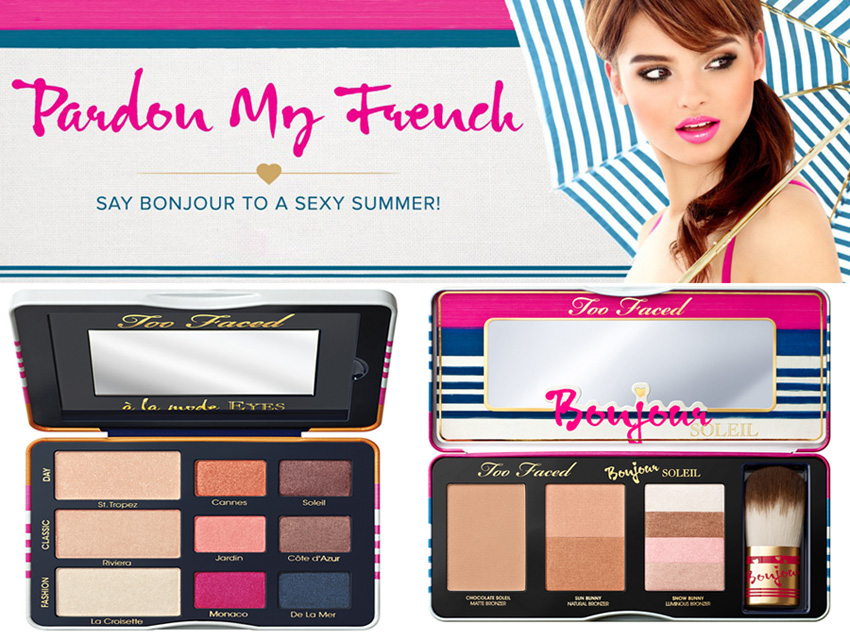 A La Mode Eyes Sexy St. Tropez Eye Shadow Collection ($36)
Capture a summer sunset in St. Tropez with coral, golden pink and fiery copper shadows for eyes that say "Ooh la la!"
Too Faced eye shadows are among my favourite, and how beautiful does that new eye shadow look?  I think I need it!
Bonjour Soleil Limited Edition Summer Bronzing Wardrobe ($44)
"Say bonjour to a gorgeous, golden tan with this collection of bronzing best-sellers including Chocolate Soleil, Sun Bunny and Snow Bunny."
The brand's bronzers are fantastic, I have Sun Bunny and Pink Leopard.
Melted Liquified Long Wear Lipstick ($21)
Get the staying power of a stain, the intense color of a liquid lipstick and the high shine of a gloss.
Melted Nude, Melted Peony, Melted Coral, Melted Fuchsia, Melted Ruby and Melted Violet.
Brow Envy Brow Shaping & Defining Kit ($39)
This portable kit is like a brow bar in your pocket: professional tweezers, easy-to-use stencils to customize your brow shape, conditioning wax, powder & brow brush tools.


 Bulletproof Brows ($30) in Universal Taupe and Univerasal Brunnette
"This groundbreaking brow definer is a powder, gel, pencil and setting wax all-in-one cashmere clay formula. Bulletproof Brow includes a mirror and our dual-sided angled and spooley brush for precise application. In just 60 seconds, color locks down for 24-hour, waterproof, smudge-proof, budge-proof Bulletproof Brows!"
Sweethearts Blush ($30) in Candy Glow
And what do you like from this collection?