Remember that last week I've promised to show you the eye shadows palettes that I personally am very excited about?
Well, they are here, and they are a part of Too Faced Smitten Kitten Makeup Collection for Autumn 2014.
Technically one palette is a part of the seasonal release, and two others are music inspired releases, but I've decided to combine them in one post…
I am a big fan of the brand's palettes, and I am happy to see, not one, but three new variations. They are:
Country Nashville Nudes Eye Shadow Collection
Rock N Roll Rock Candy Eye Shadow Collection
Cat Eyes Ferociously Feminine Eye Shadow & Liner Collection
I am all about Rock N Roll and Cat eyes in real life, but my favourite palette is the Country one. The thing is that I am not a fan of dark eye shadows on myself lately, plus I have enough of those already.  Sorry Glam Rock and Heavy Metal, here I come, Y'all…
Each palette is $36
What else is in the collection?
 Bulletproof Liner 24 Hour Eyeliners, $22
It is supposed to set within seconds and last for 24 hours without smudging or fading. The shades are: White Lie, Silver Lining, Mink, Dirt Bag (whaaat?),  Get Lucky, Purple Rain, Ooh and Aah and Blackout.
As for lips, there are four new shades of Melted Liquified Long Wear Lipstick $21 in Melted Marshmallow, Malted Candy, Melted Fig and Melted Berry.
 La Creme Lip Balm Moisture Drenched Tinted Lip Treatment $22 in Like Buttah, Honey Bunny, Peachy Keen, Pink Slip, Just Kissed and Plum Craze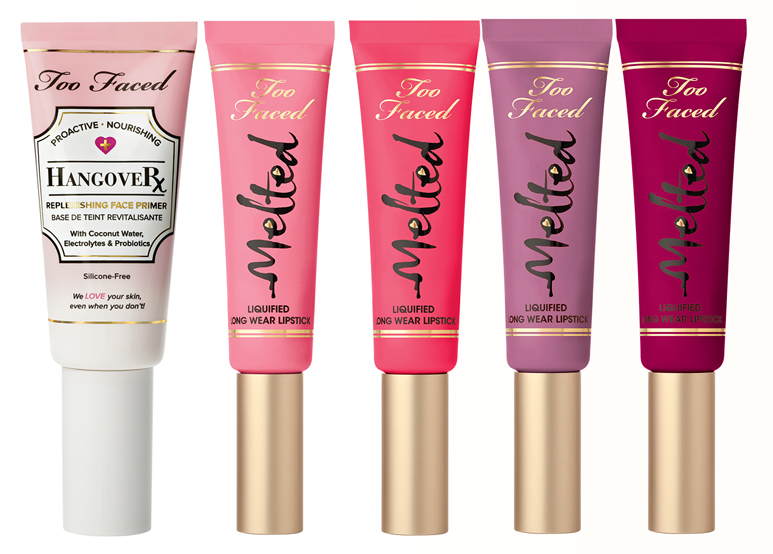 Finally, there is a new Hangover Replenishing Face Primer, $32
Which is a  replenishing face primer that hydrates, smoothes and brightens skin for a "dewy, healthy looking finish."
Here is a video for you to enjoy, too
https://www.youtube.com/watch?v=JAUaVYg4GL8
So far this collection is available from Too Faced website, but later you will be able to get it from Beauty Bay and Sephora.