It's time for August Favourites and this month I have a lot of new and exciting products to share with you.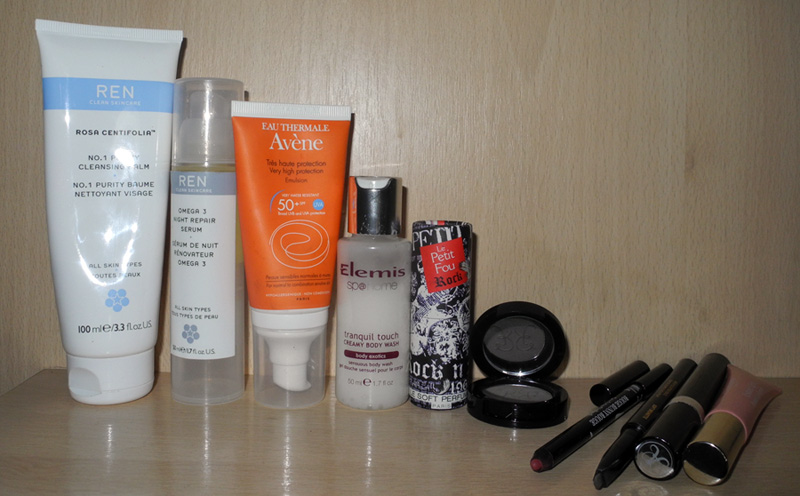 Skincare
REN Rosa Centifolia No1 Purity Cleansing Balm
I wanted to get this cleanser, you know how much I love my cleansing balms, for some time already and finally bought it in August. And it is absolutely amazing, I love everything about it ! Will write a detailed review soon, I promise.
REN Omega 3 Night Repair Serum
Another REN product which I have already included in a favourites before and wrote about earlier.  It literally saved my face after an almost three day car journey (not sure if I will ever repeat that again, but there are a lot of benefits in travelling by car).  It does wonders to my skin, I tell you. I wake up with a glowing complexion, without any dryness or irritation. I am definitely re-purchasing it in the future, as  I refuse to be without this product! Holy Grail, for sure.
Avene  Very High Protection Emulsion 50+
I really dislike most facial sunscreens as I find mots of them greasy, plus they tend to break me out (and, yes, I do cleanse properly).  But this time I've decided to try Avene, as it was recommended to me in the pharmacy, and went for the one for normal and combination skin, instead of dry hoping that it would work better. And it did!  It did not feel greasy or oily at all, did not break me out and protected my skin during the holiday.
Elemis Tranquil Touch Body Wash
I am a huge fan of this product and bought a mini size (as a part of the set) to take on holiday with me. The scent is to die for and the formula is lovely, it doesn't dry the skin out. If you want to splurge on a luxury shower product – I highly recommend this one!
Perfume
Le Soft Perfume! Rock
This was my fragrance of choice during August and during my holiday. Available from Cult Beauty this solid perfume with the notes of Bergamot, Lemon, Orange, Cedar and Musk smells super sexy, is easy to use and to carry around and stays on longer than I expected, which is awesome!
Makeup
Rouge Bunny Rouge Long-Lasting Lip Pencil Forever Yours in Marco
This  is definitely a long-lasting lip product! It survived the heat and the beach (not that I usually wear makeup to the beach, but wanted to try).  The colour, matte, medium cool raspberry, is fantastic, will be a winner for AW, swatches coming soon.
Rouge Bunny Rouge Long-lasting Matt Eye Shadow When Birds are Singing in Blackpepper Jay.

Fantastic black brown matte eye shadow, smooth and pigmented. I had only two eye shadows with me during my holiday and this was one of them, which says a lot.
Anastasia Lash Genius Waterproof Mascara Top Coat
I don't even know how many times I've mentioned this product  already, but it is just a must-have for me. It keeps my mascara in place and it survived even the sea during the vacation.
Hourglass Arch Brow Sculpting Pencil in Soft Brunette
Finally this baby is mine!  It is perfection and I am extremely happy with my purchase, as the shade is spot on, the application is easy and staying power is impressive. Hourglass rocks, as always.  I will definitely share about it in details soon.
Clarins Instant Light Natural Lip Perfector in 04 Petal Shimmer
Yes, again! But I can't help it, this gloss is just so d*mn good! This month I have used it on the beach to protect the lips and it did not disappoint. Plus I love how this pale pink goes with the tan.  Love, love, love!