I have confessed my love for Clarins Instant Light Natural Lip Perfectors (£17) numerous times already. So one more time one hurt, right?
Recently the brand added three new shades to the range and  I was actually sent all three to show you.
So the new shades are: 04 Petal Shimmer, 05 Candy Shimmer and 06 Rosewood Shimmer.
As you  already know, I love everything about Instant Light Natural Lip Perfectors. They have a beautiful balmy,  non-sticky formula which nourishes and moisturizes the lips and makes them smoother and softer. These "glosses" have  light caramel-y/vanilla-ry  scent and taste nicely, not that I am supposed to know 😉
Below you can see the close up of the applicators.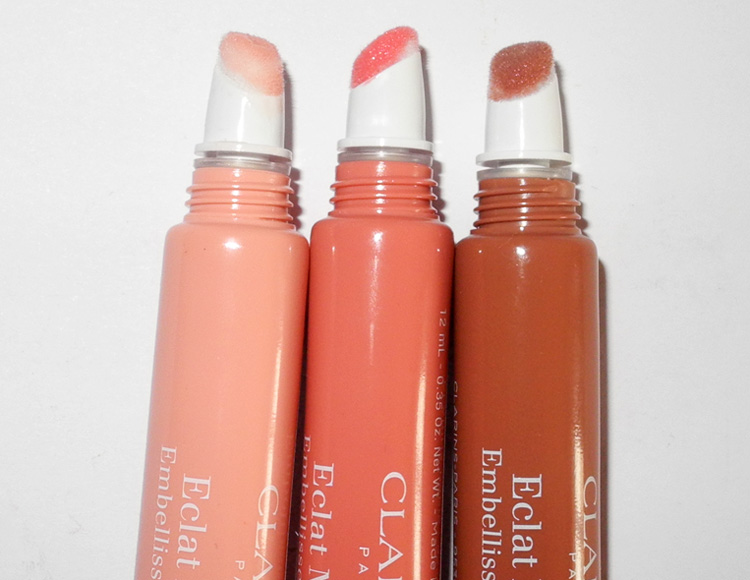 As for the new shades:
04 Petal Shimmer – pale milky pink, I like this one a lot and will be definitely wearing it a lot, especially paired with an intense eye makeup.
05 Candy Shimmer – you can actually get some colour with this one. In my opinion, it's a great pinky coral shade for Spring.
06 Rosewood Shimmer – luckily, it doesn't look brown on the lips, would look as a lovely nude on those with warmer complexions. And I personally will be wearing this when I get some tan.
The photo above was taken in a direct sunlight, so that you can see the delicate shimmer. It is not visible on the lips, by the way.
Which one do you like the best?
Buy yours from Escentual. Nordstorm,  Sephora, Bergdorf Goodman, Selfridges,Harrods.