I have a new rule when it comes to beauty products, one out – one in (ok, maybe more than one in)! Meaning that I am allowed to buy new beauty products only after I finish some from those that I already have. This is why I get a bit excited when I see a new empty bottle in my bathroom.
I actually have some new items on the way to me, as I type. Can't wait to try my them all!
I know that it's not the end of Autumn yet, and there are still three weeks, but I have big doubts that I will finish anything else by the end of the month.
And by the way, here are Summer Empties. I've decided to do such features every season.
I really love  bath oils,  so, since  I've used up two of my favourites Lavera Organic Wild Rose Bath Oil  and Cowshed Lazy Cow Soothing Bath & Body Oil  to the very last drop – I've already ordered some new ones, which are on their way to me.
Since I have very dry skin, I have to use body moisturizers, sometimes more than once a day, so I go through them quite quickly and this month I have finished the following products:
The Body Shop Pink Grapefruit Body Butter. I think these butters don't need any introduction and explanation, they are fantastic.
  Aromatherapy Assosiates Enrich Body Serum. I never used a body serum before, and was excited to try such kind of product, as it makes sense to use serums/oils on the body before a cream just, as you would on the face. It works! Plus, as all AA products – the smell is rather strong  and nice ( several times I was asked about my perfume when I used this serum), which I love, of course.
Fresh Brown Sugar Body Cream  a beautiful cream with the signature Fresh scent, can't get enough of it.
Clarins Moisture Rich Body Lotion  Yes, I had to cut the tube to get the very last drop, in fact, this was my second one. It has a light texture but is moisturizing enough for my skin for SS period, I need something more rich for AW.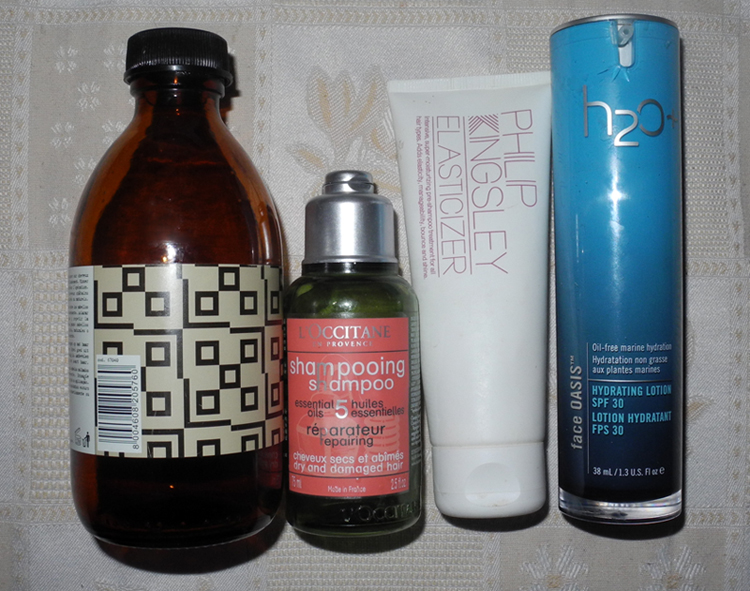 Besides a lot of body products,  I've used up several  hair products.
Philip Kingsley Elasticizer,  the cult hair care product with a  lot of fans. I am one of them, and definitely getting a big tube soon, as it is amazing. By the way, I have finally bought some of the  PK legendary scalp masks, can't wait to try them!
I've also used up two lovely shampoos, one to enhance the dark toned hair – Davines Alchemic Shampoo in Chocolate Brunette and one to make the hair look healthy and shiny – L'Occitane Repairing Shampoo for Dry & Damaged Hair.  They both were awesome, and I think,  I would re-purchase at some point.
Moreover, I've  used up a face cream – H2O Plus Face Oasis SPF 30 Hydrating Lotion,I loved the light and hydrating texture which was perfect for summer.
I have to admit, that I enjoy writing such kind of features, as they make me organized, and  help me to keep a track on the products that I had and used up.