You all know that I am a huge fan of cream products, and mentioned various cream blushers so many times. But what about bronzers?
Yes, cream bronzers! I have three variants to show you here: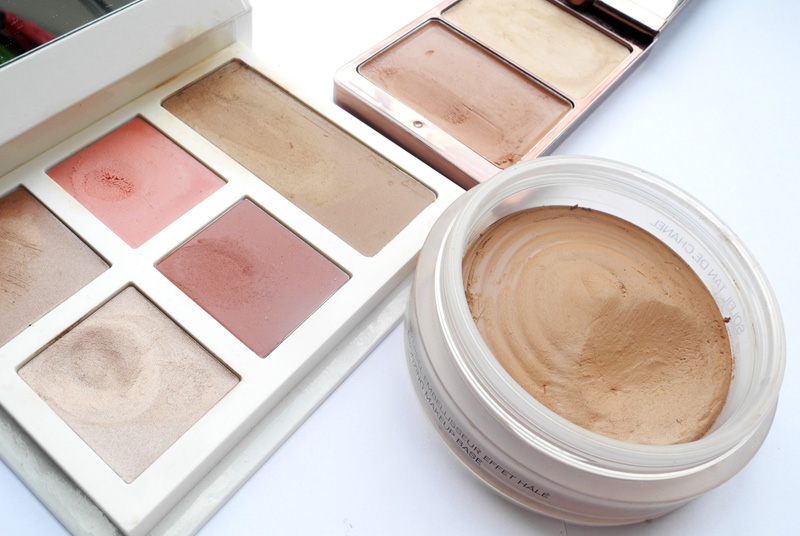 The most famous is definitely Soleil Tan de  Chanel  (review and swatches)
It is a cult classic for a reason, it is such a versatile product, it can be used as a base to warm up the complexion or as a regular bronzer to add some glow and definition to the face. The texture is light and the formula blends like a dream. I Highly recommend it, unless you very fair skin tone, this is the most orange-toned bronzer out of three.
You can buy this product from Selfridges  for £32 or Nordstrom for $48.
Sienna X Cream to Powder Bronzer with Illuminator (review and swatches)
This is anuber cool looking compact which includes a very cream and lightweight bronzer that melds into the skin and a more powdery warm toned highlighter. Together they make a perfect combo, and cost less than a lot of similar products.  This bronzer has the most reddish undertones out of this selection.
You can buy it from the brand's website for £25.
And finally, the gorgeous Laura Mercier Bonne Mine Healthy Glow Face & Cheeks Color Palette, (review and swaches)which my friend bought my in California, as it was out of stock pretty much everywhere at that time.
I had a "why did I even buy it phase" with this product but now it is completely different, and I don't even know what that was about. I adore this palette: all the shades have a beautiful light texture and give you this 'I had an amazing holiday at the beach' glow.  Rumour has it that Laura created Bonne Mine compact for Sarah Jessica Parker, so if it good enough for her…
As for the bronzer in particular, it is the most brown-toned (out of three) shade with delicate micro-shimmer.
I found it at Nordstrom for $48.
Laura Marcier, Sienna X and Chanel
You can also try Hourglass Illume Creme-To-Powder Bronzer Duo which is available from Sephora for $40 or, if you really want to treat yourself this Tom Ford's  Shade and Illuminate for £46 from Selfridges or for $77 from Nordstrom.
Maybe there are some cream bronzers that you love and can recommend?