You can see my favourite lip products of 2010 here and I still really love them but I've decided to show you some new products that I've been loving this year.
Illamasqua Lipstick in Atomic
This has been my favourite lipstick of 2011 in terms of colour. It is bright fuchsia with a blue sheen.  It is very pigmented and looks amazing on the lips. It was always a pleasure wearing it. You can see lip swatch here.
Clarins Colour Quench Lip Balm and Instant Light Natural Lip Perfector
I had a big 'Clarins moment' this year and I've bought quite a few products from the brand.  Both their Colour Quench Lip Balm and Instant Light Natural Lip Perfector are brilliant products and I really love using them. Now I plan to try all Clarin's lip products actually. Read detailed review and see swatches here.
Anna Sui Sui Lip Gloss
This is the only Anna Sui product that I have tried but I love it so much that may just call this gloss in 001 my favourite gloss of 2011! It's feels really moisturizing and smooth on the lips and it smells of roses! Plus gives a very beautiful mirror-like effect.  I definitely  need more Anna Sui in my life! Find more here.
No7 Vital Brights Lipstick in Blooming Pink
I know that it's really wrong to include a Spring 2012 lipstick in my 2011 favourites but it will be gone soon as it's a LE . So I must share about it! This is the most gorgeous bright blue based pink with a light gel-like texture. I adore it and have been wearing it non-stop ever since I've got in in November.
It should be available from the 25th January and I highly recommend you taking a look at it! Read about the lipstick and other products here.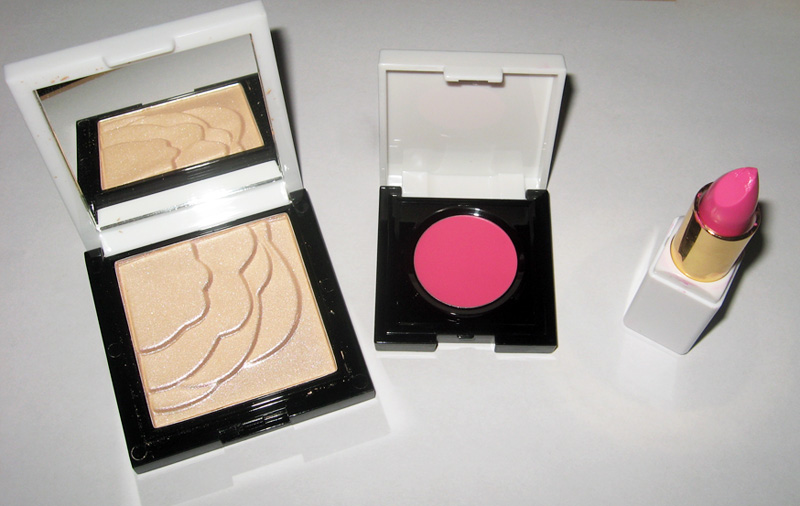 Maybelline Colorsensational Cream Gloss 215 I Love Lilas
This has to be my favourite affordable gloss of 2011. I've got it because i saw the colour and really loved it!  I even used it one of the brides,  because it's so beautiful. In terms of quality, it's a decent product for the price.
 Dior Addict Lipstick
I was very excited about these lipsticks and got one as soon as they launched.  I have to say that I loved everything about it: design,formula, texture, and great variety of shades. Review and swatches here.
Yves Saint Laurent Volupte Sheer Candy
Another lipstick with sheer texture that I was very excited about.  Beautiful formula, colour and amazing fruity scent! There are even more shades available in 2012. Review and swatches here.

Rouge Bunny Rouge Kiss Elixir
This is the best lip balm I have ever used. There are a lot of nice balms out there, but nothing beats up this one for me. I love the think moisturizing and healing formula. The name is cute, too! More about it here.
Stay tuned for more favourites posts!