Love it or hate it, but VDay is this weekend. For me this is a very special day, as on 14th of February I wrote my first feature for Makeup4all. And it was 7 years ago! Time flies…
But back to the beauty releases. Here are some that are worth your attention. Of course, you can always get anything from any new collection but these were created just for the Valentine's Day.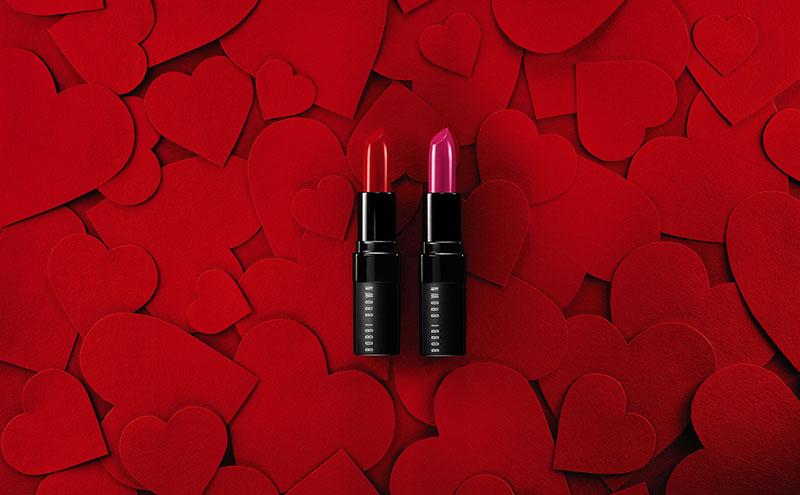 Bobbi Brown Brown Red and Pink Collection. There are lip glosses, nail polishes and lipsticks in red and pink. Above you can see Rich Lip Colors (£20) in Ibiza Pink and Blazing Red. You can get these from Selfridges and Nordstrom.
Being a rose fanatic, I wouldn't mind getting this for myself, ha! Diptyque Eau Rose Roll-On limited edition (available from Space NK for £65 and  $150 from Neiman Marcus for 100 ml). The notes are: Bergamot, Lychee, Rose, Cedar, Musk.  The print for this LE was created by Olympia Le-Tan.
Lush  always bring out a collection to celebrate love. I like the look of
As I've mentioned before, perfumes sample sets (usually 2-3 ml) and discovery collections (at least 5 ml-10ml) are some of the best beauty gifts you can get!
It can be risky to get a full sized bottle, unless you know for sure what kind of scent the person loves. If not, getting a collection of samples is always a great idea, as there are so many new fragrances to discover.
I have already mentioned  Rouge Bunny Rouge and Juliette Has A Gun. I also have such sets from Jo Loves and Jo Malone.
And this year I am loving Maison Francis Kurkdjian  The Fragrance Wardrobe ( for her, 8 x 11 mL) $195 from Neiman Marcus.  You get: