About time for me to write about my Winter 2020 favourites. If you want to check out my Autumn favourites, here they are.
So which products stood out to me beauty, style, books and shows wise?
Makeup
Let's start with makeup, as there are just a few products in this category:
YSL Touche Eclat, £26 from John Lewis, Harrods, Selfridges and Nordstrom. Touch Eclat needs no introduction, I've lost my count on how many of these I've used up. It has that a light-reflective effect which makes you look fresher; the formula is not heavy or detectable on the skin. 
Charlotte Tilbrury  Beauty Light Wand in Spotlight, £29 from Cult Beauty and Nordstrom.
This is such a brilliant highlighter, it is more on the glowing side  but without being over-the-top. Exactly the kind of product you would expect from Queen Tilbury.  It gives you that incredible polished look.
Rouge Bunny Rouge new Glassy Gloss (review and swatches)
I wore quite a few of the new RBR glosses, I wrote a detailed review about them. Can be worn sheer stain-like or opaque and glossy.  The one I chose for this feature is Berry Sorbet, a  creamy opaque berry pink. For me it's "my lips but better" kind of shade.
Burberry Cat Lashes Mascara, £24 from Burberry
 Soft and flexible brush allows you to layer and built up the effect. I find it to be giving great result, elongating the lashes, opening up the eye and lasting all day long (on me at least).
byTerry  Ligne Blackstar in So Black (review and swatches)
A long-time favourite. Intense, ultra black, long-lasting and easy-to-use tip. Haven't found a better one yet. 
Darphin Intral Environmental Lightweight Shield SPF 50, £38 from Space NK, John Lewis
I promise to write a detailed review about this magical product soon. It gives a beautiful barely-there finish so evens the skin tone slightly, and protects from the sun. You just can't go wrong with Darphin, in my opinion. A few of my girlfriends bought it on my recommendation, and love it, too.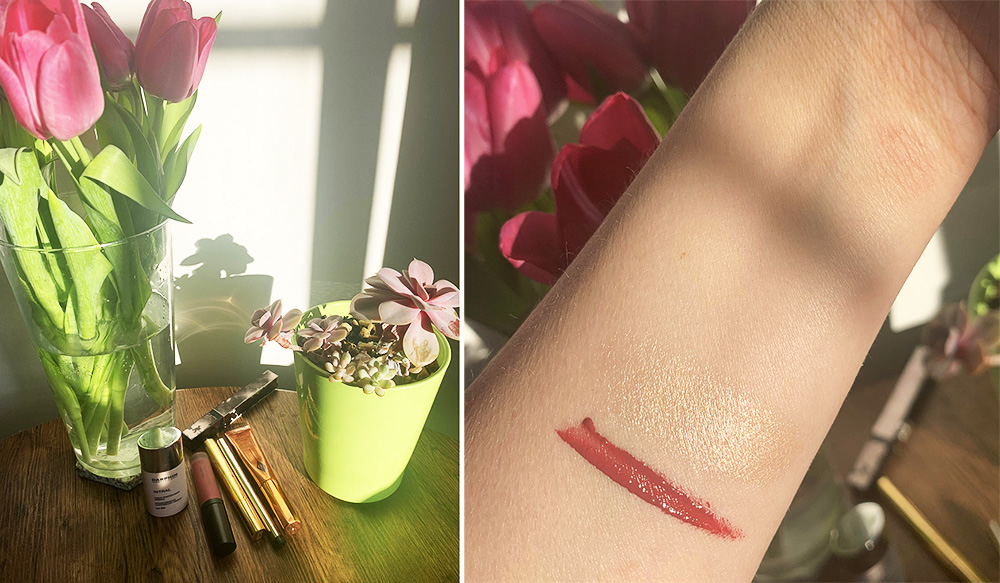 Beauty
Murad City Skin Broad Spectrum SPF 50 | PA ++++  Mineral sunscreen, £60 from John Lewis
Another great sunscreen, light and weightless. Although it's a mineral one, it doesn't leave the white cast when blended properly.
AROMATHERAPY ASSOCIATES Deep Relax Sleep Mist (review)
One of the best pillow mists, relaxing and calming. A great investment for the times we are going through now, especially.
Bioderma Sensibio H2O – Micelle Solution from Escentual
Just like Touche Eclat, this product doesn't need an introduction. Cult for a reason, removes makeup without dragging the skin.
Weleda Skin Food and Weleda Sea Buckthorn Hand Cream from Holland and Barret, Boots.
I am having a thing for Weleda currently.  They have so many great products. Right now I am obsessed with Skin Food which is brilliant for dry skin, as it nourishes [the skin] and really transforms the way it looks. I am also loving the hand cream which was recommended by my dermatologist.  It's a great, light cream which smells delicious and keeps your hands in great condition. A must have, especially with all the hand washing.
Yves Rocher Raspberry Rinsing Vinegar (Amazon/ Amazon UK)
I  already wrote a review about this lill gem. It smells incredible and leaves your hair glossy and shiny. 
Miller Harris Coeur De Jardin from Amazon
This was one of my Christmas presents, and I really like it. MH describe it as the "scent of a walled garden after a summer rain, dewy petals and fruits which sparkles like pink champagne". The notes are: rose, jasmine and tuberose; peaches and pears; orris, moss and patchouli.  I love the English garden homage and the non-overpowering quality of this fragrance.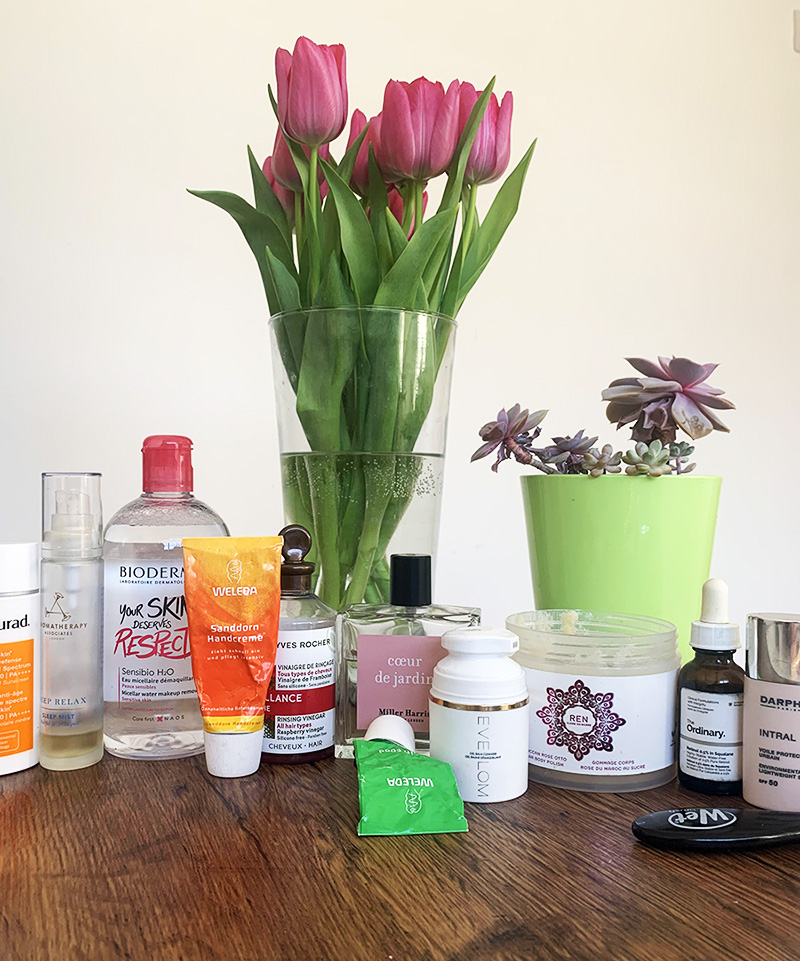 Eve Lom Gel Balm Cleanser from Cult Beauty, Space NK,  John Lewis.
Non-drying formula which is a pleasure to use, and don't forget the signature scent. One of the best cleansers, and one of my personal favourites.  I often go back to it, after experimenting with other ones.
The Ordinary Retinol 0.5 in Squalane, £4.90 from Cult Beauty
Water-free 0.5% retinol in squalane.  I personally really like how my skin reacts to this product, I don't get any peeling, irritation or redness, just a glowing and, hopefully, younger-looking complexion.
REN Moroccan Rose Otto Sugar Body Polish (review)
This scrub is just insanely good. Leaves your skin soft and smooth.  And it smells of roses! Love it. 
Wet Brush
 Wet Brush is a miracle when it comes to knotty. I am really impressed, and it is also very affordable. You can pick it up for under £12 from Cult Beauty
Style
There were quite a few things I've enjoyed style-wise. But if I had to choose only one thing – that'd be my Ganni burgundy and black polka dot shirt.  Ganni is available from the Outnet.
I also really like my full length mirror which was a birthday present from a friend.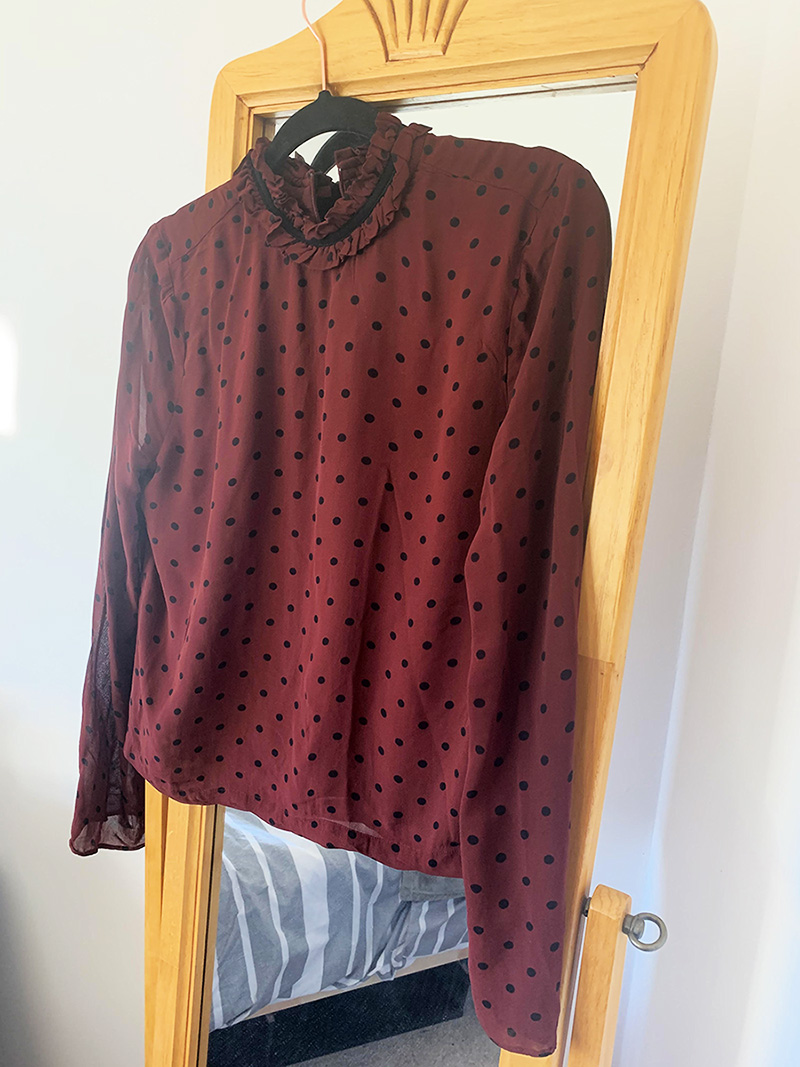 Lifestyle
In the last 3 months I have read only 6 books, and am reading the 7th now and, to be honest, none of them are worth mentioning here.  However, I often share about books on my Insta stories, there is "Books" highlight on my profile.
Speaking of Instagram, I've enjoyed it a lot more lately, and started posting more regularly. And if you follow me there, you've already seen the beautiful lipstick-shaped memory sticks with my logo on them. Such a thoughtful gift from Usb Memory Direct.
Finally, the film and series I've enjoyed the most were: Mr Jones (from Amazon) about the Welsh journalist Gareth Jones investigating the famine in Ukraine in the early 1930s. And also two comedies,  Gavin and Stacey (Amazon); this doesn't need an introduction.  Last, but not least, Friday Night Dinner (Amazon) made me laugh out loud, and isn't this what we all need now? Good news is that the new season started on the 27th March, cannot wait. I am sure I am not the only one who is uber excited about it!
Rouge Bunny Rouge, Burberry, Bioderma and REN were press samples.