I have to say that I am loving exactly the same beauty and makeup products that I have been loving in June, I should only add a few extras.  If you can still get those Clarins eye shadows and bronzer – do it! I use both almost every single day, and don't want anything else. In fact, two of my girlfriends bought them after they've tried mine and got obsessed, as well.
The love for coffee body scrub, Color Wow hair Shellac and the bronzing drops is still going strong, too.
But here are the products that I would like to add to the list of favourites.
Makeup
L'Oreal Glam Shine in Dazzle 201 Sparkle Shower (review and lip swatches)
It seems like this was the only lip product I have been loving this month besides the lip balm. I've bought this gloss last July and almost used it up. It smells delicious, feels nice on the lips and looks ridiculously pretty with that multi-dimensional glitter effect. Can't get enough of it. And it is cheap, too.
Rouge Bunny Rouge Long-lasting Brow Liner ALCHEMY in Antimony 088
Rouge Bunny Rouge finally launched their eye brow collection which consists of four products: two eye brow pencils and two eye brow gels. I will write a detailed review with swatches soon but today I want to tell you about the Antimony eye brow pencil which is slim  and allows incredible precision. The shade is not warm which is perfect and the formula is soft but not smudgy. It was worth the wait!
Skincare
Garnier SkinActive Oil-Infused Micellar Cleansing Water
I've used up several bottles of the original Garnier micellar water and finally bought this one in July, and I am loving it. It cleanses the skin really well, without leaving an oily residue.  I also find that it is even better at removing makeup than the original formula. I promise a detailed review.
Elemental Herbology Cell Nourish Radiance and Vitality Facial Serum
This serum is incredible, one of the best ones I've ever used. It does everything that is promised, leaves the skin nourished and glowing. I highly recommend this award-winning product.
Body Care
Soap & Glory Whipped Clean Shower Butter (review)
I think the scent of this products is love it or hate it, and I happen to adore it. Not only it lifts my mood whenever I use it because of the fragrance, it also feels delicate and non-drying. I am addicted!
ArtDeco Ylang Ylang and Patchouli Precious Dry Oil (preview here)
I am a huge fan of body oils, so when I saw this one from ArtDeco's Senses Asian Spa collection, I had to get it. It reminded me of the Rituals body oil I've had some time ago and loved it.  Even when it is hot, I still need a good body moisturizer, and this oil leaves the skin silky and smooth. And Ylang Ylang & Patchouli?! Yes, please!
CND  Solar Oil Nail and Cuticle Conditioner
I have decided to take a better care of my nails and have been using CND's Solar Oil every night before going to bed for about 10 days at this point, and I can already see the results. My cuticles look a lot better, and I hope to see that it will also make my nails stronger and healthier.
Oral Care
FOREO ISSA Toothbrush  (as seen here)
I have been using ISSA toothbrush for 2 moths already, and I can really tell the difference, my teeth look whiter and feel cleaner. (In fact, two of my friends commented that my teeth look great which is weird but great at the same time). I would say that it is a great investment in your oral care. I am using it with a Colgate toothpaste, nothing fancy but it does work really well. Expect a review on all my FOREO devices in the upcoming weeks.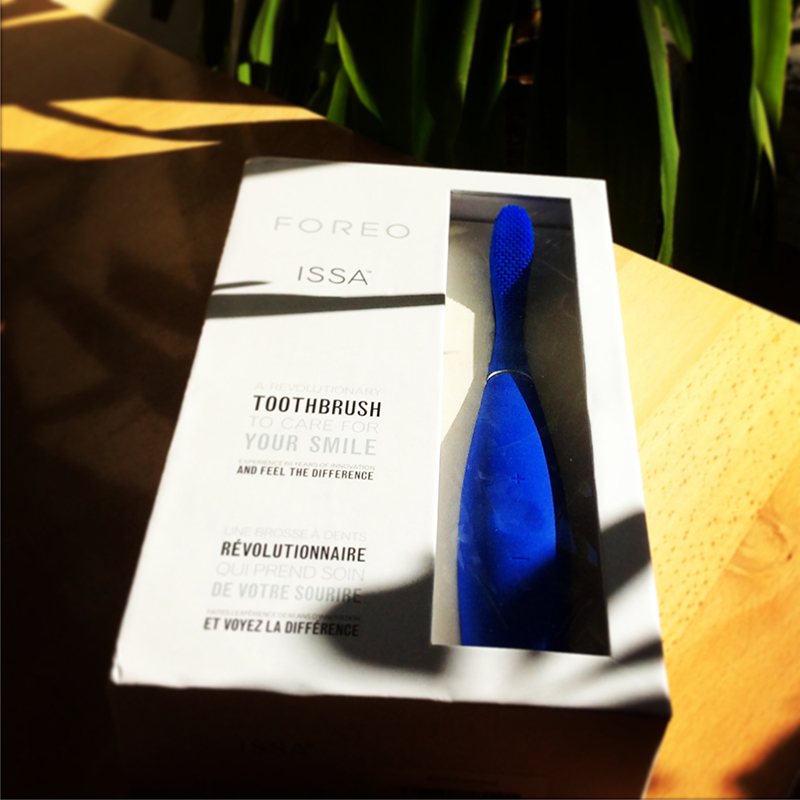 Since I have mentioned  so many times how I love the scent of this or that product – fragrance of the month has to be  Creed Aventus for men (on a man) – it smells incredible. I am a die hard fan! Make the man in your life try it 😉