It's almost the end of the year so I just want to share my favourite makeup products for face  of 2010! I am not going to name a favourite product in each category but will just name the products that I really loved this year. This is obviously my personal opinion and  I would really love to hear about your favourite products!
Drumroll please…
Primer
Illamasqua Satin Primer
This works amazing if you have dry skin. I just mix a tiny bit of this primer with foundation and it gives a beautiful dewy finish. It doesn't look greasy but I would use it only on the dry skin. Read review here.
Powder
Make Up For Ever HD Powder

It works like a "real life" Photoshop, it blurs all the imperfections. Now don't get me wrong it won't make your skin look perfect if you have a lot of problems but it does change the way your makeup looks a lot. It is also an amazing products for taking photos. Read review here.
Bronzers
Too Faced Bronzers
These are great for brightening up the face, I use them to give the face the warm glow. Too Faced brozners are shimmery but not over the top, they give just a perfect shade. My favourite are Pink Leopard and Sun Bunny. Read review here.
Hoola by Benefit
This was my favourite bronzer for contouring this year, I've used it a lot on myself and on others. It has a matte finish which looks nice on a lot of skin tones. Read review here.
Blushes
This was the most difficult task to choose my favourite blushes because there are quite a few that I love.
Powder Blush – Lancome Blush Subtil
Now I do love some Chanel and NARS but this year when I've wanted to use a powder blush it was Lancome most of the time. I have 2 perfect  matte blushes which look very natural on the skin. I absolutely love this blush! Read review here.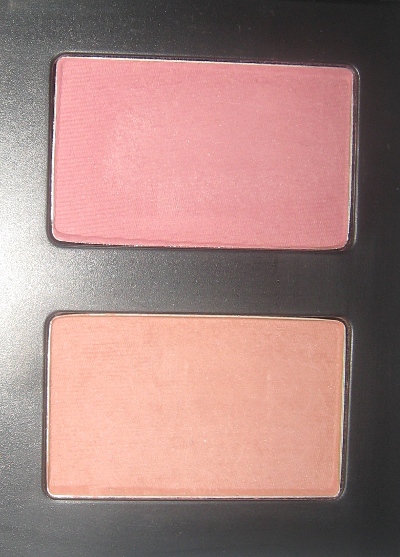 Cream/Liquid  Blushes
I just couldn't  choose here… There are so many products that I love. And it seems that I always have some cream/liquid/gel/stains blushes on my list. In 2010 I've been loving:
BECCA's Cream blushes, BECCA's Beach Tints, Illamasqua's Cream Blusher in Rude, Ellis Faas  Blush in S302, Rouge Bunny Rouge Decadent Duos I could go on and on but these were the best for me in 2010.
Highlighter
BECCA's Shimmering Skin Perfector
Now this is the best highlighter hands down. It is perfect!  I could honestly keep on going  why do I love it so much but instead I'll just write a  post  in 2011 ;). I  have to say that it gives the most beautiful polished effect without any glitter or too much shimmer. Blends amazingly and  stays on for a long time. This has to be in my top 10 makeup products of all times! Yes, I seriously love it that much!
As for foundation, I've been loving Max Factor's Second Skin a lot.
Concealers: Make Up For Ever Camouflage Concealer for a full coverage, Rouge Bunny Rouge Naked Disguise Glide Concealer for medium coverage and Revlon ColorStay Under Eye Concealer for under the eyes.
And what about your favourite makeup products for face?