I am not a big fan of all those "get in shape in 10 days" and "bikini ready in a week" features which are all over the Internet and in press every summer. But there are ways to make your skin look "summer ready", as cliche as it sounds. And, since it is a beauty website, here is a step by step guide on what products and procedures I swear by.
Exfoliate
I am a big fan of dry skin brushing, and I know that   a  lot of models swear by it, too.  My personal favourite is definitely Elemis Skin Brush. It is not the cheapest option but really worth the money, in my opinion. I actually have two.
Coffee scrubs will also help in terms of making your skin softer and smoother. They should also help in reducing cellulite, at least  I read such feedback from people who have been using them long enough.
Fake Tan
My skin is so pale that it looks greenish/blueish  after winter months. And since going to the beach and enjoy the sunbathing (don't worry, I am very reasonable and always use sun screen) is not always an option – fake tan is my BFF. The formulas have been dramatically improved over the years, and these days there are tonnes of great options on the market actually.
Right now my favourite product is Clarins Radiance Plus Golden Glow Booster, which is a concentrate that you mix with your regular body lotion. It adds just a right amount of colour and looks natural and streaks-free. You can see how my legs look here.
I have also been loving the Xen Tan products for years now:  Dark and Medium.
Add The Glow
Finally, my favourite step has to be applying shimmering body oil. Regular readers will know that I am obsessed!  My all time favourite is Gold Shimmer Oil. But there are other great ones which are more affordable. For example,  Clarins After Sun Shimmer Oil which not only adds radiance but also  colour.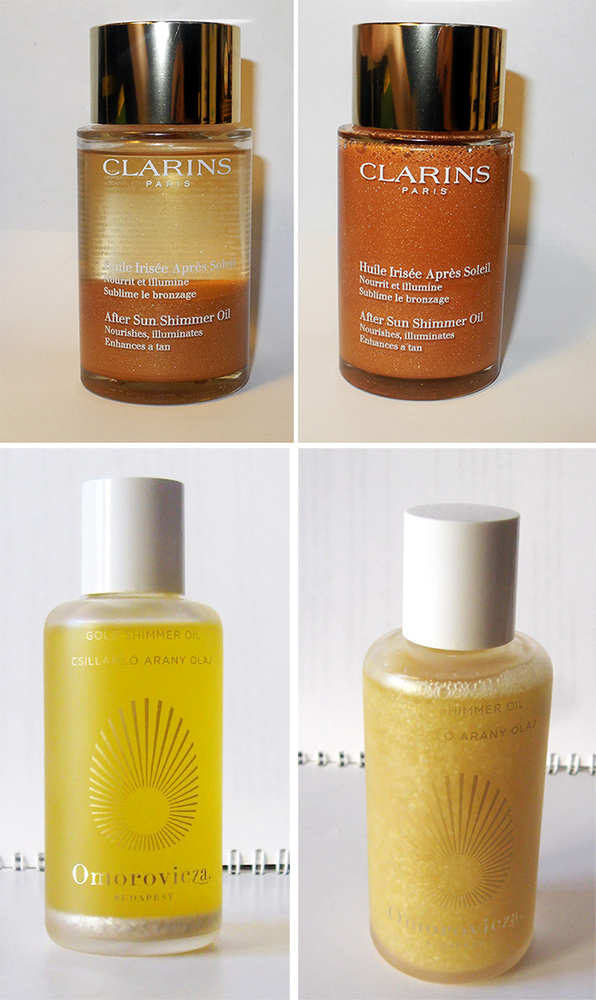 These days so many brands have shimmering body oils, both luxury and high street, here are some options you can consider.
If you are not a fan of oils, you can always use body shimmering products, like this powder from Danial Sandler.