Last week was a very busy one for me and I hardly got any sleep, so in the mornings it was a big challenge to a) get out of my bed b) look half decent. This made me analyse what products I was reaching for in such situation makeup wise.
Of course, everything starts with skincare but I'd love to concentrate on makeup today. But… the honourable mention goes to Omorovicza's Queen Of Hungary and Clarins' Beauty Flash Balm.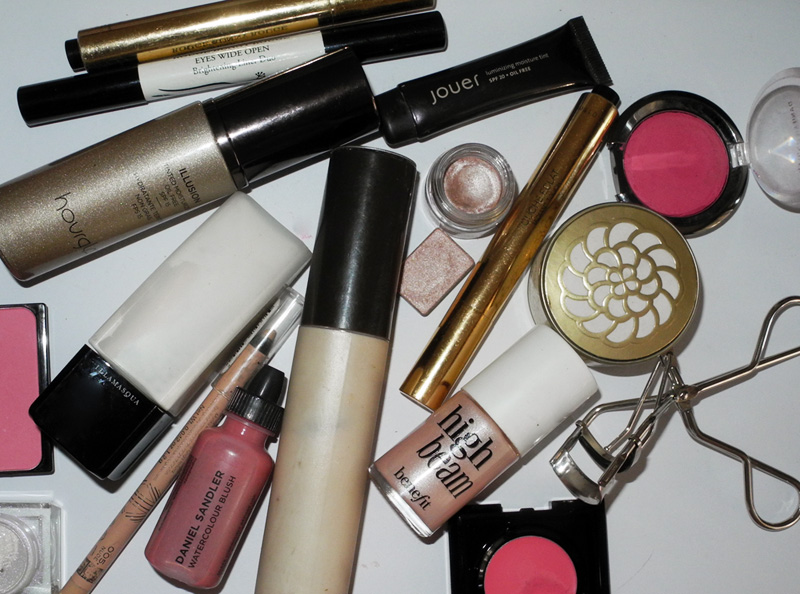 Since you want to look radiant and glowing and not  shimmering, shiny and "sweaty" don't go overboard with the products you use.  One illuminating/highlighting product is enough, and it's up to you to decide on which stage you'd like to use one.
Primers
It can be a primer and my pick would be Illamasqua's Satin Primer, as it gives a beautiful healthy sheen to the [dry] skin. But  if sheen is not enough for you, there are a lot  of primers with delicate shimmer on the market, so you can go for one of those.
Foundations
Illuminating bases (foundations and tinted moisturizers) are a big hit, as you can achieve a complexion of your dream with only one product. Hourglass Illusion Tinted Moisturizer or Jouer Luminazing Moisture Tint are just perfect for this. I am personally not a huge fan of the bases with shimmering particles all year round but for summer I love them.
Highlighters
If you find that the pre-made illuminating bases  are too much for your taste – you can always make your own by mixing the foundation and highlighter of your choice in the right proportions.
Some people want to skip all the steps above altogether, in that case, I'd recommend just following your usual routine and add highlighter on the top of your cheek bones, above the upper lip, under the brow bone, in the inner corner of the eyes; and on the bridge of the nose, which is optional. I love BECCA's Shimmering Skin Perfector and Benefit's High Beam.
Powders
For the fans of powders – there is an option, as well. And that is Guerlain's meteorites! Thousands of women swear by this powder which comes every year in different variations.  It is a cult product for a reason.
Of course, there are so many other products that you can use, and these are only those that I use and like.
And now, that we've discussed how to "prepare the canvas" aka your face it's time to discuss the makeup itself. So stay tuned for part two!